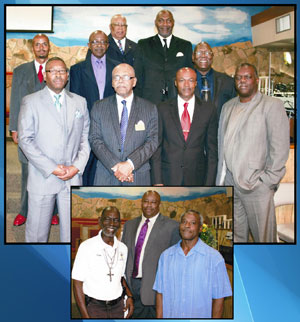 "As iron sharpens iron, so one man sharpens another."
Proverbs 27:17
The Brotherhood Ministry consists of men of the Church. The Brotherhood Ministry emphasizes growing leaders based on Christian principles to exhibit godly characteristics, and helps to equip men to become Christ-centered, more effective at home, at Church, and service-minded. This includes activities to inform, motivate and engage men in praying, studying the Word of God, and bearing witness to Christ through modeling and community service.
Again, we hope to bring brothers into a vital relationship with God, to give service where needed in the Church and community, to provide an outlet for a spiritual and social fellowship, and to provide support to all the other ministries in the Church. We encourage you to come out and take an active part in the activities and fellowship with other Christian men at Church.
Bottom – Left to right: Bro. Earl Pendleton, Bro. Arthur Parker, Bro. Ray Johnson – Vice President
Top First Row – Left to Right: Bro. Chester Copeland, Dea. Walter Fuller, Bro. John Avery, Sr. – President, Bro. Eric Wise
Top Second Row – Left to Right: Bro. James Mercado, Bro. Marvin Porter, Dea. Charlie Ball, Jr.
Top Third Row – Left to Right: Dea. Carl Bryant, Dea. James Watson – Secretary