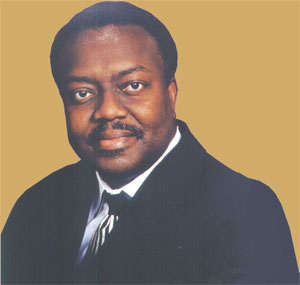 Rev. Dr. Bartholomew Banks, Sr. is the 8th child born to Bishop Elijah and Mrs. Atlean Banks in Pensacola, Florida. He was married to Vanessa Banks on February 19, 1977, and to that union was added 4 children Kenya, Bartholomew II, Barmeithia and Barron. They now have 5 grandchildren, Donovan, Maxwell, Bartholomew III, Vania and Jas'mia.
Rev. Dr. Banks earned his Associate of Arts degree from Pensacola Junior College in Business Administration and then went on to earn his Bachelor of Arts degree in Accounting from the University of South Florida. He earned a Masters of Arts degree in Biblical Studies at Dallas Theological Seminary in Dallas, Texas. Rev. Dr. Banks was awarded two honorary Doctorate degrees from Florida Beacon College & Seminary of Jacksonville, Florida and Belford University of Savannah, Georgia in 2006.
Rev. Dr. Banks acknowledged his call into the Ministry in the fall of 1985 under the leadership of the late Rev. Dr. F. G. Hilton, at the St. John Progressive Missionary Baptist Church and is now the Pastor of that same church which is a more than 2,400 member congregation with over 35 active ministries.
Rev. Dr. Banks served as the Financial Secretary for the Progressive M & E Baptist State Convention of Florida, Inc., for over 15 years under the leadership of two presidents (Dr. H.T. Rhim and Dr. N.S. Sanders). He also served as Pastor of St. Mathew Missionary Baptist Church of Tampa, Florida, prior to returning home to succeed his father in ministry, Dr. Hilton.
Rev. Dr. Banks' involvement in the community where he resides includes giving leadership to Hillsborough County's Division of Children and Youth Services, and has served as Director of Aging Services Department which provides health and social services to 5,000 seniors annually with a 13 million dollar budget. He serves on the Board of Trustees of Florida Memorial University. He is currently the Vice President at Large for the National Baptist Convention of America International, Inc. (NBCA, Inc.), as also serves on the Board of Directors of NBCA, Inc. He is a member of the Omega Psi Phi Fraternity, Inc.
Rev. Dr. Banks was elected to the Presidency of Progressive Missionary and Educational Baptist State Convention of Florida, Inc. in March of 2006 and was re-elected for a second term without opposition. He is the youngest preacher to be elected to that position in the history of the Convention.
Reverend Dr. Banks is a gifted musician and in his spare time enjoys playing traditional gospels songs and hymns on the classic Hammond B3 Organ.